Las Vegas Rounders 2051 Draft
1.15 LB Donnie Gillespie
Utah will definitely miss their captain next year, as this dynamic middle linebacker not only led the team in tackles, but also in sacks and forced fumbles. Gillespie impressed the Vegas coaches in his interview who have all but announced the smallish Gillespie as Norman Burke's replacement on the outside. If you didn't watch this freak of nature in the combine highlight reels, be sure to catch a Rounders game this fall and watch this specimen in action.
2.16 LB Tristan Kemp
Kemp is just another Auburn talent headed to the CFL. Kemp terrorized opposing quarterbacks with his pass rush strength and technique all season, while also punishing runners with his size and speed. Even though Kemp tripped the stopwatches at 4.48 in the 40, Vegas coaches have expressed an interest in Kemp trimming down even more for the pro level and improve on his 40 time that many scouts have already said understate his on-field speed. Vegas's recent change to a base 43 defense may explain the influx of linebacker talent and a switch to more athletic pass rushers that may also need to defend against the pass.
3.15 QB Damian Sinclair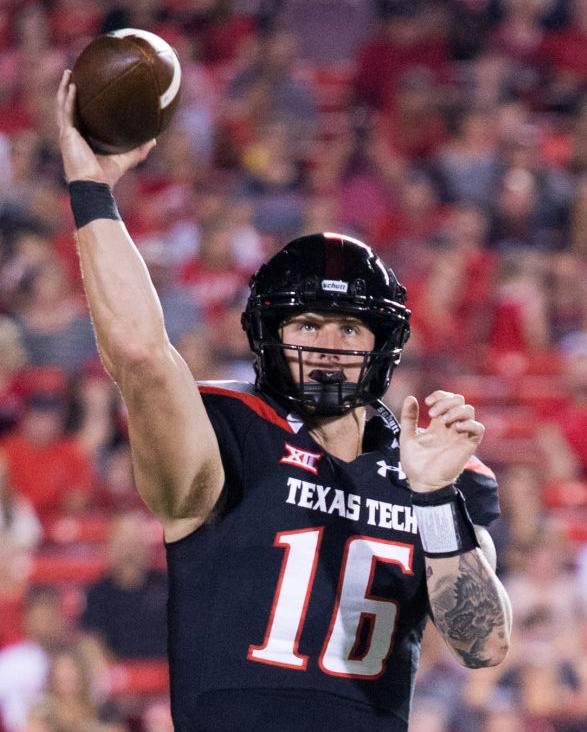 The Rounders are dying for an answer at the QB position and fans are elft to hope that young Damian Sinclair is that answer. Sinclair tantalized scuts at the combine in the positional drills, but many were left wanting a bit more in other areas. Many scouts see him as completely raw and a bit undersized. However, they don't get much smarter or any more motivated than Sinclair, who is graduating from Texas Tech with a dual major and with honors in the coming months. The Vegas staff seems to think they have a diamond in the rough with natural talent and a very high ceiling.
4.16 LB Warren Alcorn
Alcorn was a four-year starter and a four-year standout at Rice. Whether his hand was in the dirt or he was chasing down TE's in coverage, Alcorn was known for his utility and big hit ability. although his endurance is a question mark, there's no doubt he will take full advantage of any opportunities he gets in Vegas' front seven.
4.25 S Damon Rickard
This diminutive safety was a favorite of Cal fans and teammates alike. The scuttlebutt has finally been settled as the official height and weight numbers (5' 8" 199 lbs) were published following the CFL combine. There's still a few rumors that Rickard had rolls of quarters stuffed in his socks in hopes of breaking the 200 lb mark but he fell a few dollars short. There are many who say Rickard is not big enough to play the position at the next level but his interception and return for TD numbers are hard to ignore. California's Coach Wilcox said that the coaches stopped pulling him out of the extra reps in tackling drills because he kept finding ways to sneak back into them. He said the team sort of self-policed his determination because the running backs started to call him out. The only problem was that his teammates weren't worried about his over exposure to hitting drills - they were more concerned about looking bad themselves. Cal running back Tre Watson said, "The guys always joking about what's heavier, a pound of lead or a pound of them damn feathers and I don't know, but I know that a pound of Lil' Ricky is heavier then both them put together. Running through my boy is like trying to run through a brick wall in quicksand with an octopus hanging off you. If he ain't knock you back, knock you down, or tie up them legs, you gonna have to drag his tentacle-arm-clinging ass wherever you be going". Well Tre, he be going to Vegas to join a stout Safety corps.
5.15 CB Brian Parise
Vegas was clearly looking for some big-hitting playmaker sin the 2051 draft. Parise had a solid career at Wisconsin where he was most known for separating players from the ball followed closely by his ability to shut down opposing receivers. Parise may see some time in the nickle package but will earn his paycheck on special teams.
6.16 WR Sherman Augustyniak
Duke's Augustyniak showed his tremendous ability to adjust to the ball at his Pro Day where the winds were gusting upwards of 30 mph. It didn't matter and he was even overheard telling his QB to just get it on his half of the field and would take care of the rest. Some teams saw his speed, deep route running, and ability to adjust to the ball correlating directly to success in the CFL. Although a bit raw, Augustyniak has every bit a chance to make this WR corps as the next guy.
6.27 WR Eugene Wayne
You won't find any whiter receivers than those found at Duke and Idaho. Idaho's Eugene Wayne is about as short and as white as you can find in the continental United States. This 5'9" drink of skim milk has tremendous instincts with the ball in his hands. Considering Idaho's waterboy has 2 inches and 10 pounds on this kid, it's no wonder he can run away form people so well. He's got the instincts and guts to make it in the CFL and Vegas is betting he can make it on their squad. Time will tell.
7.15 TE Jon Hatcher
Hatcher was an overachiever at South Carolina or so his tape showed. This is not necessarily a bad thing but every tape a scout pulls on this guy always shows a player performing above his measured skill traits, including film going back to high school. His ability to turn nothing into something on a consistent basis with single dominating trait makes him an intriguing late-round add for any franchise.
_________________
ROF Division Champions: 2039 - 2043, 2045, & 2047
WFC Conference Champions: 2018, 2041, & 2042
CFL Champions: 2018 & 2041