The late stages of Free Agency came and went in most CFL cities without much news. It's the time of the football season where nothing sensational ever happens and even the splashes that made headlines at the beginning of free agency have faded into recent history.

Leave it to Las Vegas GM TurfToe to generate noise to disturb the peace.

During late free agency, Vegas starting QB Pat Springer announced his hold out for the 2041 season. The following week, Springer found himself atop the pile of veteran CFL QB's looking for a new opportunity.

"Well, yeah, of course I was surprised when I got the call from TurfToe", said a dejected Pat Springer by conference call on Wednesday.

"I mean, he was calm relative to his normal schtick, but when he said he enjoyed our time together and wished me luck down the road - my jaw just hit the floor. It really stung when he told me 2040 was possibly my best year with the club and he thought I had what it took to win a CFL title in Vegas. It stung because he was up front and sincere only to follow it with news that left me breathless for a while. I had to take a few minutes to make sense of it all before I called my agent. I wasn't sure I wanted to do it [hold out] but it was supposedly in my best interest. I'm at a loss right now."

TurfToe was surprisingly available for comment Thursday morning. TurfToe had this to say, "The CFL is business, big business. I have a roster to put together for my coaching staff and the last distraction I need is for my leader, my fucking starting QB, to hold out and put himself before the team. Springer fit the plan here in Vegas but his actions, whether on his own accord or through his agent's hand up his ass working him like a puppet, indicate he thinks he is more important than the team. I've held players to different standards in the past and it did not contribute to the success of this team. I believe I have sent a clear message to our team and the CFL community. If you want to be part of the team in Vegas, you are either all-in or all-out, this is not a part-time deal. I loved that kid but I had no choice but to support my team. In return, I'm asking the team to support whoever it is that replaces Springer and we move forward as one team with one simple mission. Period. End of fucking sentence. End of fucking lesson."

When asked about 9-year CB, Donald Neu who is also holding out, TurfToe quickly added, "He got the message. If he didn't, we know he cheated on that Solecismic test."

When asked why Springer was cut immediately and Neu was still officially under contract, TurfToe quipped, "Look, they don't hand out a rubber stamp that says 'Cut' that I can go around stamping on contracts. There's a process and for every process there's too much damned paperwork. We'll take care of Donny in due time. Next you'll be telling me they have a 'Fine' button I can click any time I want to fine a player or coach. I'd have carpal tunnel syndrome in no time."

This leaves the Ring of Fire champions without a starting QB. Will a hard-line approach on contracts help team morale or is the Vegas franchise shooting itself in the foot in the middle of stringing successful seasons together?

Stay tuned...
As the 2038 regular season comes to a close, we take a look back on the season's top performers.

Starting with the Offensive Player of the Year Award, there were 3 standout Wide Receivers and Hartford's offensive backfield. I think it's tough to look much further than San Antonio playmaker Toby Hartman's 1754 yards. Wait, there's also the 19 TD's.




Defensive Player of the Year Award honors feature some middle linebackers with a safety and defensive end thrown in for good measure. Despite the outstanding seasons by LB's Shepard, Hopper, and Cormier, SS Harold King's 147 tackles and 7 interceptions define elite play in the defensive backfield.




The Special Teams Player of the Year candidates are a bunch of kickers, so they should just be happy I'm listing their names here. Moving along...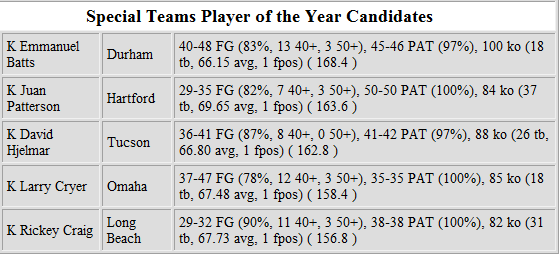 Offensive Rookie of the Year discussions centered on Brandon Brandon Brandon Brandon's 1128 yards/17 TD's and Joe Wombacher's 1447 yards/7 TD's. Depending on what matters most to you, yards or TD's, will determine which way you are leaning. I've never seen yards win football games, yet points always seem to - Brandon repeating is my winner.




The Defensive Rookie of the Year Award race is a good one with Elliott, Blackwell, and Allen all as legitimate contenders. There's numbers to like on all of these guys and they are so diverse it exemplifies the reason sports discussions are so great. Although I would like to have seen Elliott find the end zone on at least one of those 8 picks or a few more forced fumbles from Blackwell's 10 sacks, I can't begin to argue the importance of these guys to their respective defenses. Allen, Finch, and Barlow are also deserving of the title but I'm leaning Elliott here based purely on his ability to turn the ball over.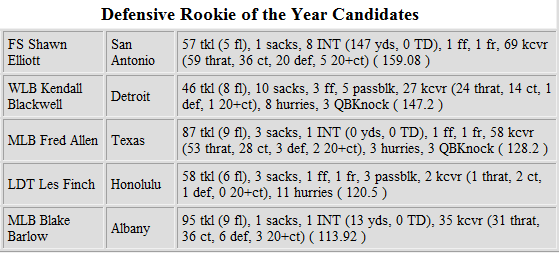 Up next: A sneak peak at some possible All Pro selections.
2038 Las Vegas Rounders Draft Review

1 - 20 (20)

Dean Iannucci ILB Penn State


Pre-Camp: 25/39
Post-Camp: 31/48 (+6/+9)
End of Season: 34/48

EOS Analysis: The Nooch suffered a knee injury in Week 5 and missed several weeks during the middle of the season. Even upon return he lost some reps to Handy and Foote on nickel and dime packages before returning to his full time roll. Dean could have been in the running for DROY had he been healthy and posted his team-leading tackle numbers and having more opportunities to improve his pass rush numbers. Las Vegas found their answer at MLB for now (reads: pending FOF7 conversion).

Post-Camp Analysis: This is right in line with our expectations and maybe better than expected. Iannucci could potentially creep to a 60 rating. Day 1 starter with the first round pick is a good thing.

Pre-Camp Analysis: These numbers were to be expected. Dean's selection was based entirely off of his combine scores, which indicate he should be one of the best MLB's in this draft. The measure will not be his post-camp numbers but his play on the field this season and the movement (if any) following summer league next year.




Although Iannucci turned heads at the combine as the tallest middle linebacker, it was his strength, agility, and performance that were all best in class to go along with his top 3 speed at the position. TurfToe had this to say following the draft, "I just couldn't believe we were able to land Dean at 20 today. I mean this kid just jumps off the film with his athleticism and big hit ability. I'm not sure what he did or said in other teams' interviews, but we just couldn't get enough of this kid." Iannucci is projected to be a day one starter between outside linebackers Handy and Foote.

2 - 22 (54)

Norman Burke OLB Florida

Pre-Camp: 30/42
Post-Camp: 35/46 (+5/+4)
End of Season: 36/46

EOS Analysis: Burke remained in the shadow of Handy and Foote all season as expected, with only special teams as his opportunity to shine. The jury is out until playing time increases significantly.

Post-Camp Analysis: Another solid pick that had the camp we expected based on combine scores. Mid-50 rated LB in the making. Might see some time if we go 3-4 and Foote or Handy slide inside, otherwise a solid backup in the 4-3 scheme.

Pre-Camp Analysis: I'm actually surprised by the pre-camp numbers on Burke. I had him pegged as a 20/45-ish guy. I'm hoping he becomes more of a mid-50's guy instead of a high-30's guy.




What Burke lacks in athleticism, he makes up for with passion and fire. Just like Iannucci, Burke arguably had the best combine amongst outside linebackers in the drills. Burke is definitely a football player first, athlete second, but his explosiveness was obvious when he made everyone look white in the LB broad jump. Buke's collegiate career was a string of highlight hits that resembled MMA knockouts more than football tackles. He'll add depth behind current starters Handy and Foote and have time to develop in that role.

3 - 21 (85)

Roman Clinton P Princeton

Pre-Camp: 63/73
Post-Camp: 65/75 (+2/+2)
End of Season: 73/75

EOS Analysis: Not much has changed. He's still a punter. He still has his Princeton paper. Clinton developed into a solid punter but will need to work on his skills to emerge from the mediocrity of the middle of the pack of FOF punters.

Post-Camp Analysis: We were hoping Clinton held his value through camp and a +2/+2 is merely gravy. It's looking like this kid is the real deal and we spent extra time on special teams to help increase his impact right out of the gate. Three-for-three so far.

Pre-Camp Analysis: When your bars are as skewed as the tuition mommy and daddy paid for you to go to Princeton, the pre-camp numbers better look this good. The two tests Roman has left to pass is training camp and his first season. Last year's stud punter had his leg twisted like a pretzel and he is now an animate paperweight. Good luck kid!




Clinton's a punter. He attended Princeton and has the Solecismic score and diploma to prove it. 'Nuff said.

4 - 20 (116)

Casey Fujita TE Vanderbilt

Pre-Camp: 22/37
Post-Camp: 25/37 (+3/0)
End of Season: 25/37

EOS Analysis: Fujita saw one snap during the regular season. At least he's on the roster and collecting a paycheck.

Post-Camp Analysis: Fujita should be a presence in the run game but we were honestly hoping for more in camp. Although not a disappointment, nothing to get excited about either. May be a reach to make the roster.

Pre-Camp Analysis: Fujita is the first of the rest of my draft that were late round fliers set early in the draft. When I didn't get around to adding to my list, 22/37 players are what you end up with. Camp will determine if this kid stays and ends up a starter or gets cut.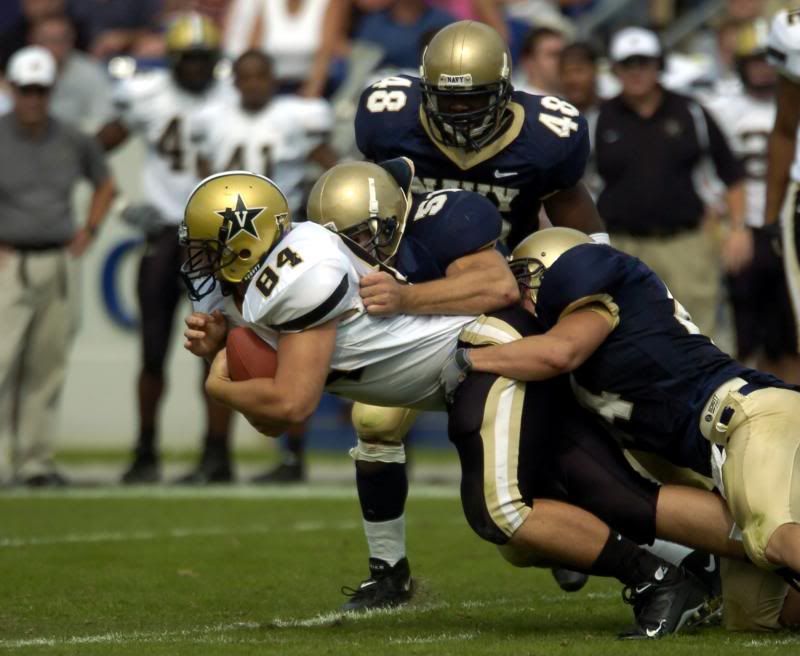 The Rounders have struggled to attract and retain talent at the TE position over the past several seasons. It's nice to see Fujita selected here, but there was an opportunity or two for the Rounders to select a better TE before this. Fujita's solid blocking skills and the ability to make plays after the catch are strengths Las Vegas could not overlook. Barring a horrible camp or preseason, Fujita may be the starter in Vegas.

5 - 22 (150)

Harvey Knight RB Oklahoma

Pre-Camp: 21/30
Post-Camp: 23/30 (+2/0)
End of Season: 24/30

EOS Analysis: Knight beat out Finch early in the regular season as Biakabutuka's backup and after Finch earned a second chance to secure the backup role, Knight took it right back. He didn't have a chance to do anything in the return game but he has delivered more than expected as the #2 back in this offense. Knight needs to take a big step heading into next year if he wants to establish himself as a legit #2 runner in the CFL.

Post-Camp Analysis: We're now 2-for-2 on the not-so-excited list, just as we were heading into camp. Knight will need to show us something in short yardage and as a returner in the pre-season if he hopes to have a job come week 1.

Pre-Camp Analysis: Lather. Rinse. Repeat. Knight made my flier list early on as a power back and punt returner. It's too bad we took him in the 5th instead of the 7th where he belonged. The kid will eventually be a 38-rated 3rd RB on our roster.




One trend that couldn't go unnoticed was Vegas' attention to those who performed on the bench. Knight was the strongest running back at the combine and the film illustrates that translation in short yardage situations. Knight is obviously not going to supplant Biakabutuka but he will provide Vegas with sledgehammerability when Biakabutuka is not in the game.

6 - 21 (181)

Devin Clayton CB Butler

Pre-Camp: 21/42
Post-Camp: 23/42 (+2/0)
End of Season: 26/42

EOS Analysis: Clayton was a serviceable CB, especially after Morales' gruesome ankle injury but he left a lot to be desired in a starter. Clayton's punt return abilities are sufficient but he needs to maintain or improve those as he works on becoming a better defensive player.

Post-Camp Analysis: Still no red to complain about but this is the third pick where the staff has not seen a jump in potential in the mid-round picks. Clayton looks to be the returner we expected and stands a good chance of locking up that spot before he sees his first game action.

Pre-Camp Analysis: Clayton is another special teamer to make my list. He probably should have been selected before Knight. He also meets my no combine guy quota for this draft. Roll them dice FOF, 7 or 11 baby!




Clayton was drafted for his playmaking ability as both a return man and risk-taker in the passing game. Although Clayton was not invited to the CFL combine, his playmaking ability caught the eye of someone in Vegas who convinced the war room to take a chance on him.

7 - 20 (212)

Butch Barlow DE Bowling Green

Pre-Camp: 21/33
Post-Camp: 23/36 (+2/+3)
End of Season: 25/36

EOS Analysis: Surprise rookie on the Rounders. Barlow did nothing but make the most of his limited action this year returning both of his recovered fumbles for long scores. Despite being stuck behind stud DE"s Tamburino and Harvey, Barlow scored twice, received POW mention once, registered 3.5 sacks, 2 forced fumbles, 2 blocks, and 2 hurries on less than 300 snaps for the year. Despite the minimal gain on his current rating, Barlow is one to watch as we go through the FOF7 conversion.

Post-Camp Analysis: A decent camp for a 7th rounder but he may be lacking the skills to play end at this level. The health of the guys in front of him will have as much to do with his future as a Rounder as anything else.

Pre-Camp Analysis: Barlow is a complete crap shoot. I think his pre-camp numbers match the bars just fine but I'm hopeful the combine numbers correctly indicated room for growth. I think I've got his new nickname...




Barlow is an underwhelming physical specimen that performed well in the weight room. Barlow's agility and run defense skills may help him make the team, but without a stellar camp it may be an unlikely possibility.
In a brief and rare interview, Las Vegas sports news outlets have been looping Turf Toe's latest warning to CFL GM's and fans alike.

"I'm back bitches!", Turf Toe was quoted as saying.

In his usual self-centered, rambling, and sarcastic high-brow tone, Turf Toe downplayed rumors of his resignation from another sim football league in order to focus more on real life. Despite several minutes of dodging specific questions and simply beating around the bush, he all but confirmed he is no longer the GM of the NAFL's Arizona Cardinals.

When pressed for more details about what part of real life he needed to focus on, Turf Toe simply replied, "You know, just life in general. And after serious inflection, my life is just not complete without those bastards in the CFL and my beloved Las Vegas Rounders. I'm focusing on what's important to me at this stage of my life and regaining my commitment to success in the CFL is important to me".

Although fans and critics alike agree that Turf Toe is well beyond his prime, both in the forum and on the field, it's safe to say most will regret the awakening of this slumbering giant. For those who knew Turf Toe in his prime, they've already started Turf Toe protocol by reinstating mail searches and pre-game locker room sweeps. For the newest generation of CFL GM's, all we can say is you'd best protect yourself by doing some research and realize...he's back bitches.